*This is a paid collaboration with GuestReady*
Two weekends ago I went and stayed in an Airbnb with my two sisters, one of whom lives in Manchester so we chose a place half way between there and London. We were four adults and two children and we managed to book a three bedroom cottage. We had such a lovely weekend catching up with my cute nephew and spending time together and although the cottage was fine it definitely didn't add to our experience and we won't be going back there. The decor made it feel unnecessarily drab and dark, there were random bits of furniture and piles of clutter and the linen was very far from fresh and crisp. To be fair it was a family home BUT they charged us £300 for one night! We would have returned in the future and paid that fee had they made just a few easy changes and did a proper clean (it was 'sticky' – if you know, you know). As it turns out we didn't leave a great review and they won't be getting £300 from us again.
Anyway, it got me thinking about trying to make our house pay for itself using Airbnb or HomeAway or the like when we go away (something we did do a few times in our old flat really successfully) but what puts me off is the hassle of preparing for guests as well as doing handovers etc. That's where GuestReady comes in. GuestReady is a property management service who will look after everything from photographing the property, screening potential guests, greeting guests and doing key exchanges, professional house keeping to being on call throughout a guest's stay to perform basic maintenance tasks. All of these things will help get excellent reviews, which keep guests coming back and help reach the optimum price for a property.
Of course, a home (or perhaps it is a second home to rent out on a short or medium let basis) needs to be appealing to guests to optimise how much one can make from it. So what can one do or what changes can one make to charge as much as possible? Here are a few tips that I think will help…
Add personality without it feeling too personal
Guests don't want a home to feel sterile and soulless otherwise they'd book into a basic hotel. You shouldn't feel the need to strip the house of character as guests want to feel at home. Art work on the walls, statement ornaments or wall hangings, books and plants all go to make the place feel relaxed, welcoming and lived in. However, try not to make it feel too personal as the hundredth picture of the couple's wedding in the cottage we stayed in at the weekend was overkill and kind of made us feel like we were trespassing, if you know what I mean. Think about where you live and try to add local touches like a piece by a local artist or books about the local history. Small touches like that will give the place character and interest. A quick note about plants: do not rely on guests to water them – you may be better off with some of the amazing faux plants that you can buy these days.
Let the light in
A light bright property is not only going to photograph better – something that GuestReady can do for you and good photos on sites like Airbnb and HomeAway makes ALL the difference – but it will also make your guest's stay so much more enjoyable. It's very easy over time to clog up rooms with too much furniture or to place furniture too near windows so that the light is blocked out. Try to clear as much space in front of windows as possible and ensure all window coverings are pulled right back so that they don't block out any light. If your home is generally quite dark and doesn't get great light because of its position think about your lighting. Each room should have multiple light sources including the ceiling and walls as well as table and floor lamps. I can not emphasise enough how much lighting affects the ambiance of a home and whether or not people feel comfortable in a space.
Buy vintage
A great way of making a space feel relaxed and lived in, as well as adding style, is to combine old with new by adding vintage and antique pieces. Layering vintage textures and colours through furniture, textiles or ornaments will look great but it is also a very cost effective way of improving your home if you need to do so before you list it. Vintage pieces can be so much cheaper than new so rummage around local markets, antique shops or online for some great bargains.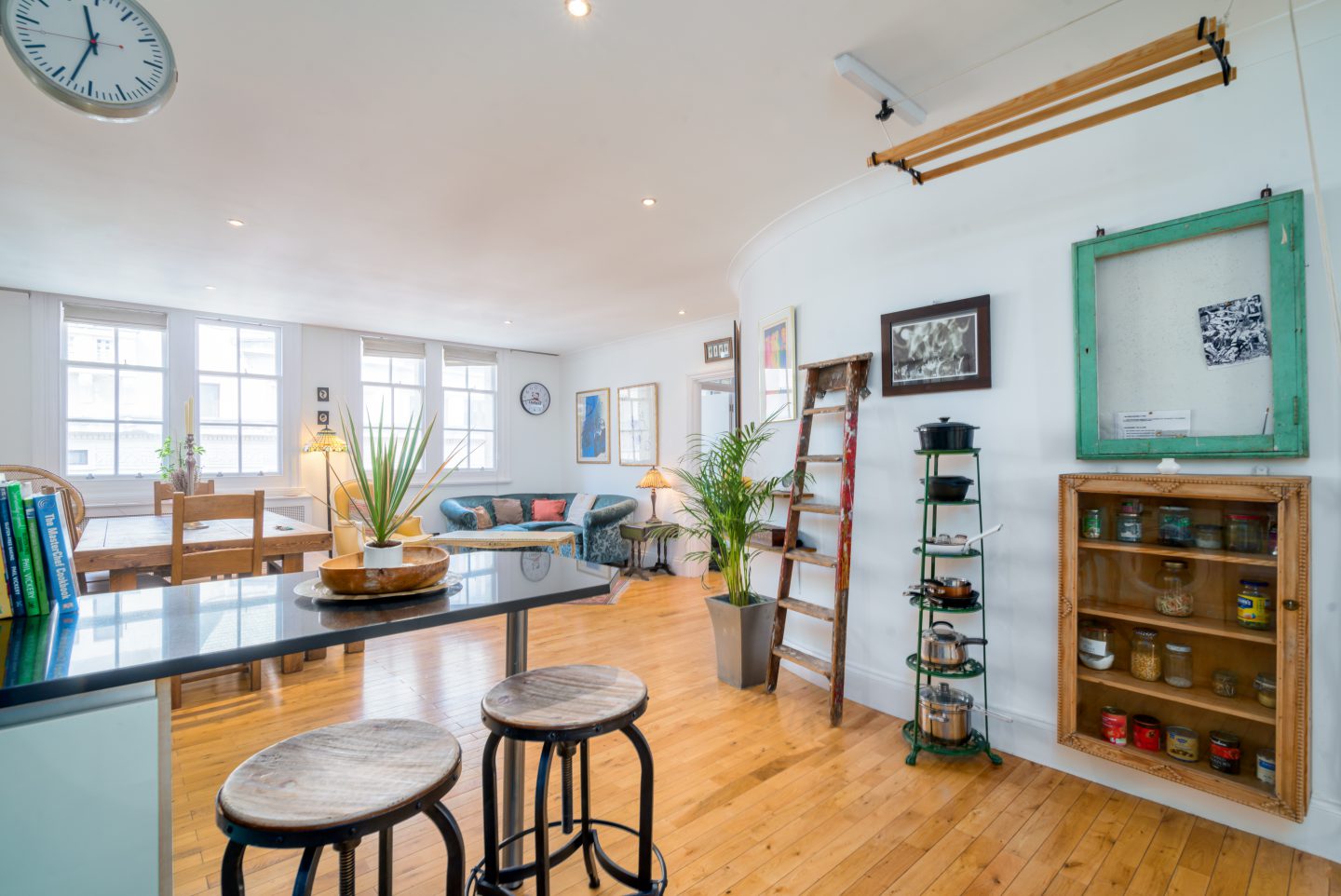 Relaxation zones
This may just sound like weird jargon but the fact is that the way you use a full time home is very different to the way you use a holiday home. In our daily lives our focus isn't always on 'relaxing' but more about doing and getting through our daily routines and chores. When you invite guests into your home they will want to be able to relaxed in each room so you may need to move things about a bit or add certain pieces of furniture that enable them to feel as comfortable as possible – something that may not be a priority on a daily basis for you. For example, adding a couple of chairs with a small table to the bedroom, if possible, as when you stay away from home you generally have more time to spend relaxing in the bedroom or the need to spend extra time in there as you may be with friends or family and need somewhere to escape to. Another example is adding a chair in the bathroom so that guests can enjoy the extra time they may have or a reading nook in the living room. This was a trick that the cottage we stayed in really missed as they had a huge bathroom and there was nowhere to sit, which was such a shame. Try to put yourselves in the minds of guests and what they may want out of your home.
Don't be afraid to use colour and pattern
Yes, neutral homes will appeal to a wider audience but if you have the confidence to use colour and pattern effectively go for it! A stand out wallpaper, paint colour or a mix of textiles can help to make your listing more memorable than others – don't forget that GuestReady will help you make your listing as effective as possible, including brilliant copy writing, but a stand out decor will also help a lot.
Think sofas
Washable sofa covers make life so much easier. You can keep your sofas looking fresh and you don't have to panic that a spill will ruin your beautiful velvet fitted cover! Also, sofas are a great way to maximise beds as sofa beds or daybeds can be used to house extra guests, which means more money. Daybeds are a great way of adding extra seating to a room and look really lovely and welcoming as you can pile them with cushions and interesting textiles.
Use rugs
If you have hard floors adding rugs can make the space feel so much cosier and more like home. They also serve to bring a sense of cohesion to a room. Don't forget underlay to stop rugs slipping and if you expect children and pets as guests I suggest jute rugs as they are brilliantly hard wearing and don't show up dirt in the same way as wool rugs. Make sure the rug is as big as you can make it – this will always make a room feel bigger and pull furniture together if they will all sitting on the rug.
I think we need to sort out the exterior of our house before we can list it but when we do I would be so much happier passing over the management to GuestReady as life is so busy and I just can't imagine how we would squeeze it in otherwise. I think I would also feel much happier and more confident about inviting guests in knowing that they had been screened properly (I remember we narrowly swerved a bride to be that planned to use our roof garden for a hen party booking into our flat!) and that issues during a stay could be resolved by the GuestReady team. When we had or flat on Airbnb a few years ago the phone calls about how to turn on the hob or where the local supermarket was was such a pain when we were on holiday ourselves so turning that all over to someone else would be amazing. Also, not having to rush in myself and clean the whole place before another set of guests arrived would not be something I'd miss!
What do you think? Have you ever listed your home or perhaps you have a holiday home you let out? I'd love to know what your experiences are and what tips you may have to make homes guest ready.
Katy x