As I said last week we have made the decision to tile our hallway and install underfloor heating. It is a big expense but worth it for the warmth it will bring to such a cold space. Covering up the extremely battered and dirty floorboards in the hallway will also transform the space from an aesthetic point of view. However, the challenge of choosing the right tiles is not one I relish, if I am completely honest. I'd happily choose a kitchen or bathroom tile any day of the week but hallways are very different. I'd always go for a traditional Victorian mosaic floor in that period of property because that is what would have been there originally. A 1930s house is a different story as the hallway wasn't originally tiled and it is a much more modest space with no intricate period features or high ceilings. If I had the budget I would lay a new wood floor from the hallway right through the living space downstairs but as it stands that won't be possible until we extend the back of the house in maybe five years time. Therefore, I want a new floor in the hallway that we won't have to touch when it comes to extending and tiles is the obvious choice.
I need the tiles to be Porcelain, easy to lay (so not mosaics) to keep costs down, suitable with underfloor heating, a traditional feel to them as modern isn't really my thing, patterned to disguise some of the mud/dirt that gets traipsed into our house every day, light in colour as there is so little natural light in the hallway and fairly neutral colours that will suit a change of paint colour in the future. I can't say I have found a huge number of options that I love that fit all of these criteria!
Let me just show you a few tiled hallways that I love: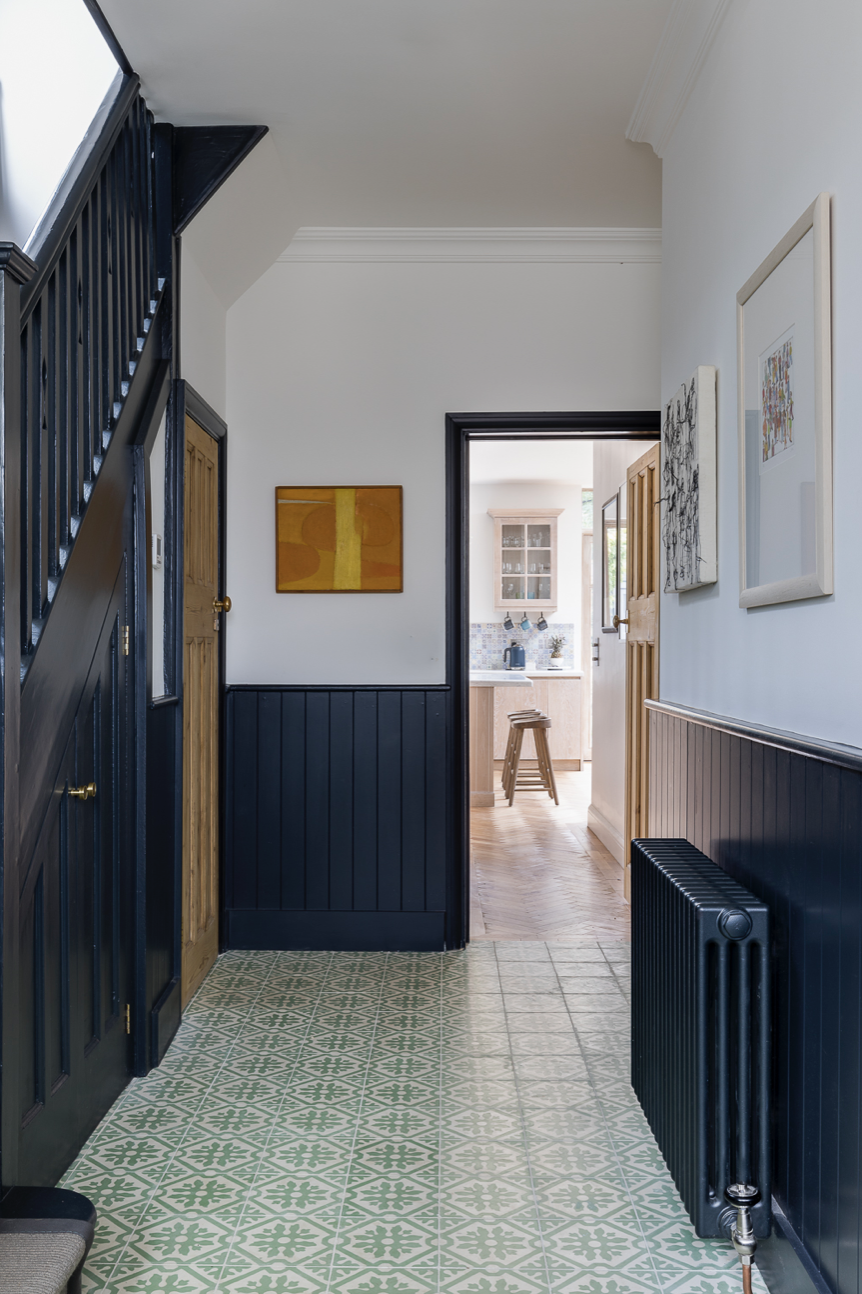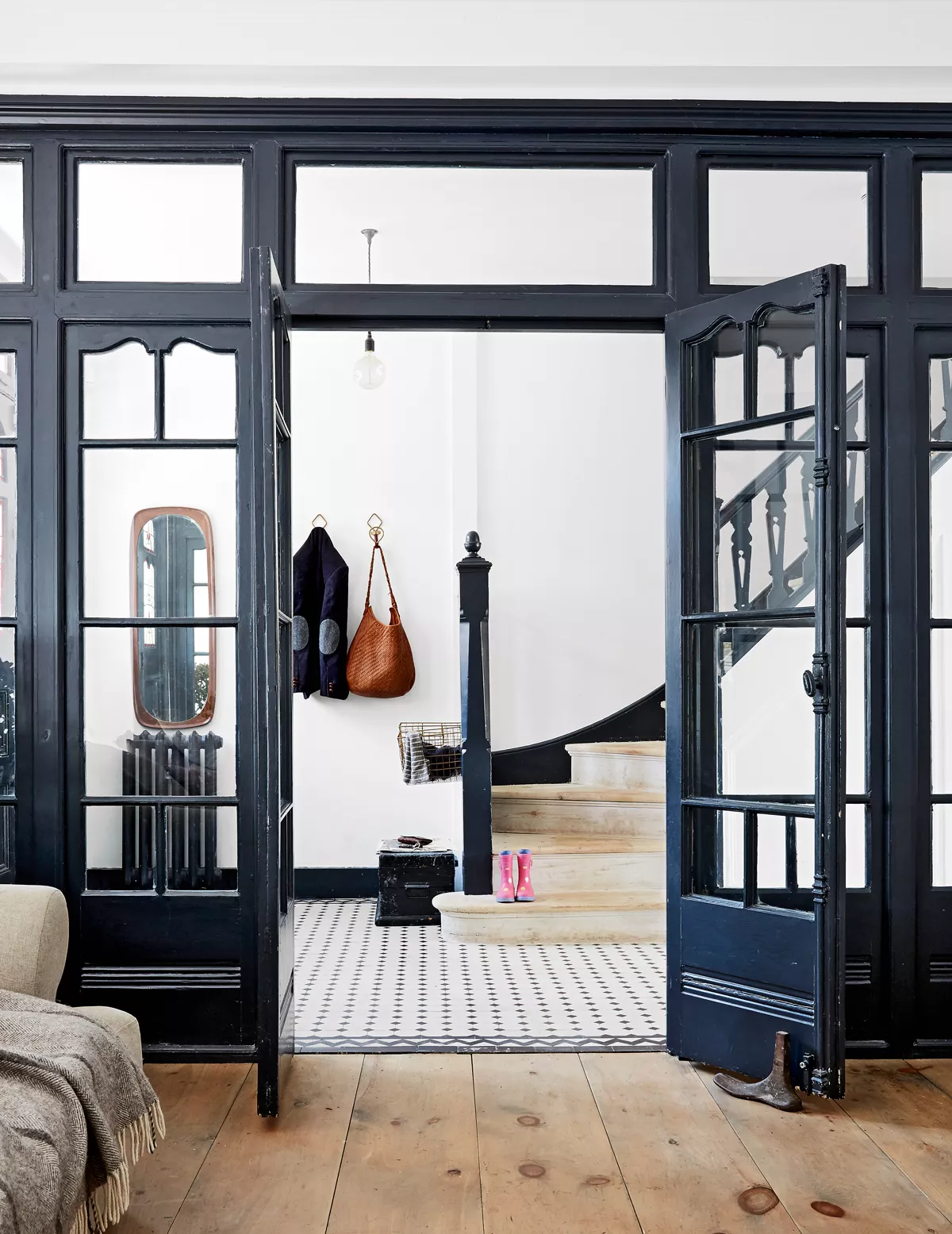 So, I only have a few tiles in the running at the moment for my hallway. Firstly black and white chequer, a very classic choice that Jules is in favour of:
We have ruled out a large (20cm) black and white chequer tile (as can be seen in the image above on the right) as our hallway is too small and I worry it looks too utility room/kitchen if you know what I mean. Also, it is very difficult to find an off white tile and I definitely definitely don't want brilliant white.
However, we do both really like Topps Tiles Victorian Mosaic black and white chequer tile, which is much smaller and the white tile is off white (much more like the image above on the left). The issue is that they are a lot more expensive to buy and lay. Also, I would really want them to be laid diagonally and that will be a nightmare to do, especially with a border. I worry they are quite cold looking too and I would really like the hallway to feel more cosy and welcoming. Hmmm…
The second choice is something I'm quite keen on but Jules not so much. It has a bit of colour in it so they look warmer but still quite muted and it would be very easy to lay. My only issue is that it kind of matches our house too much! I would like something with a touch more contrast.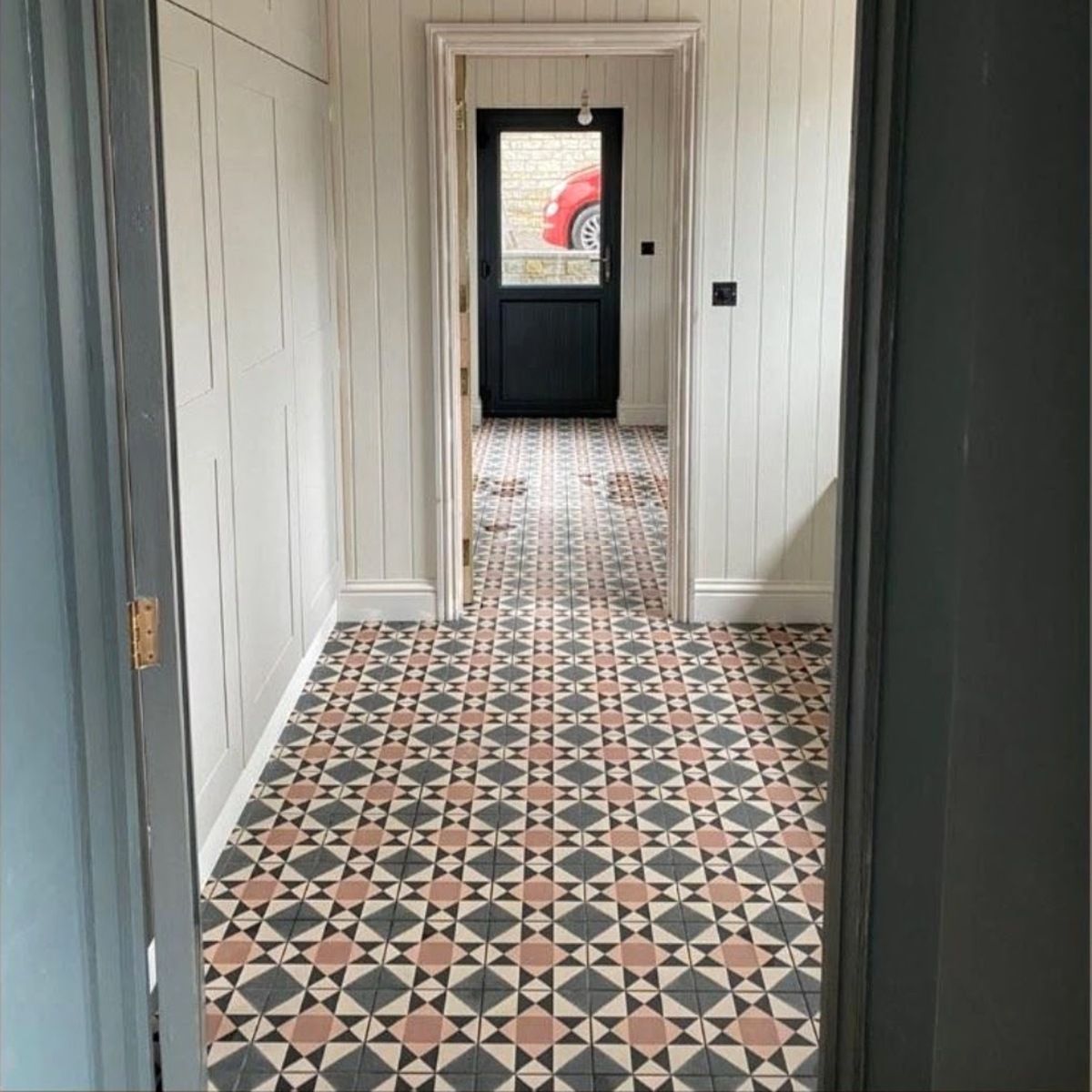 A couple of other options that I am considering are these porcelain black and white Casino Baccarat tiles from Fired Earth: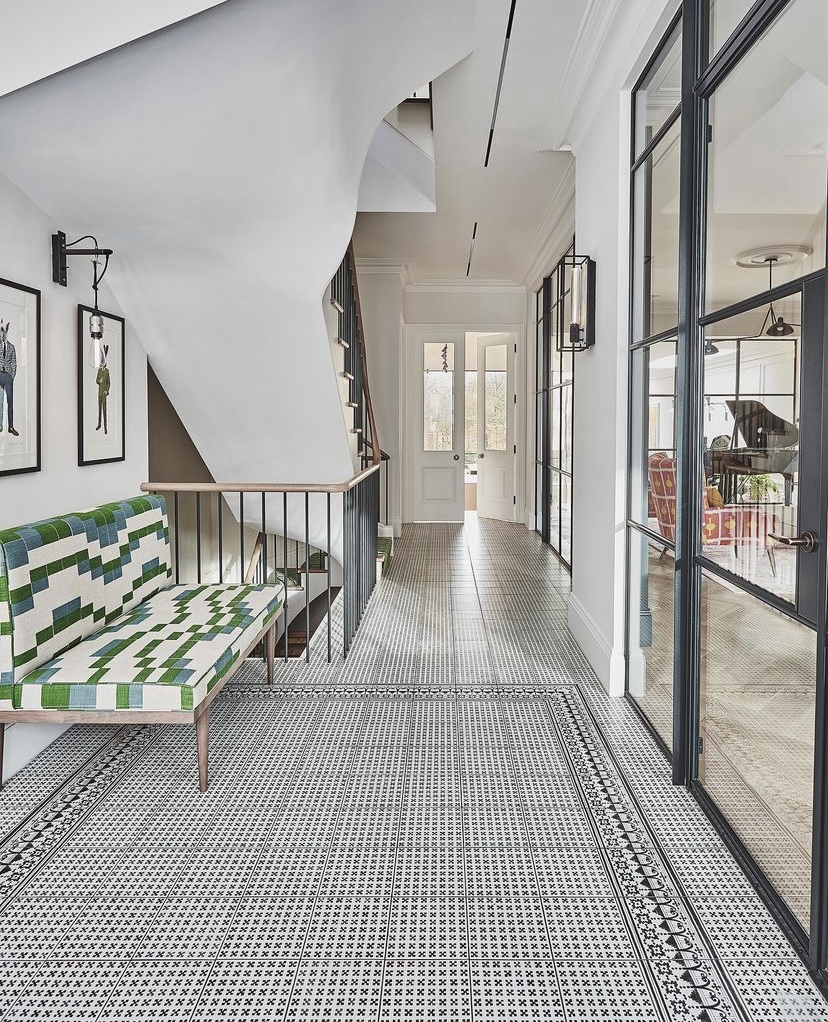 And I also love the drama and simplicity of these Trellis Fired Earth tiles (currently not available):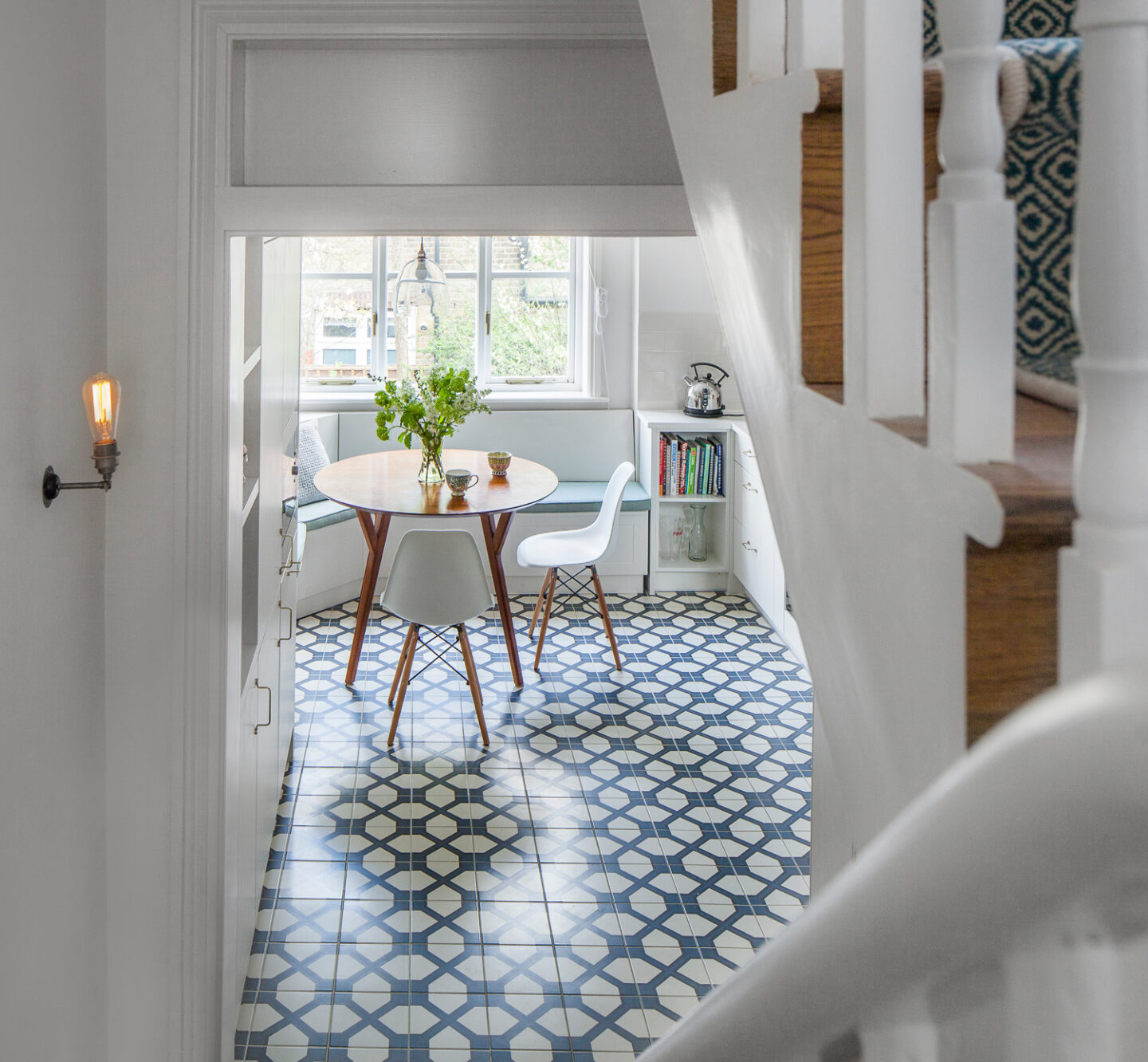 I have to say if I could consider encaustic tiles the choice would be a lot easier as I feel a lot of the designs are more suited to hallways but they are just too high maintenance for our family. I would love to have either of these Fired Earth tiles but sadly our budget and general levels of muckiness just won't allow it. Also, they are quite colour specific so it would be harder to change the colour of the hallway in the future: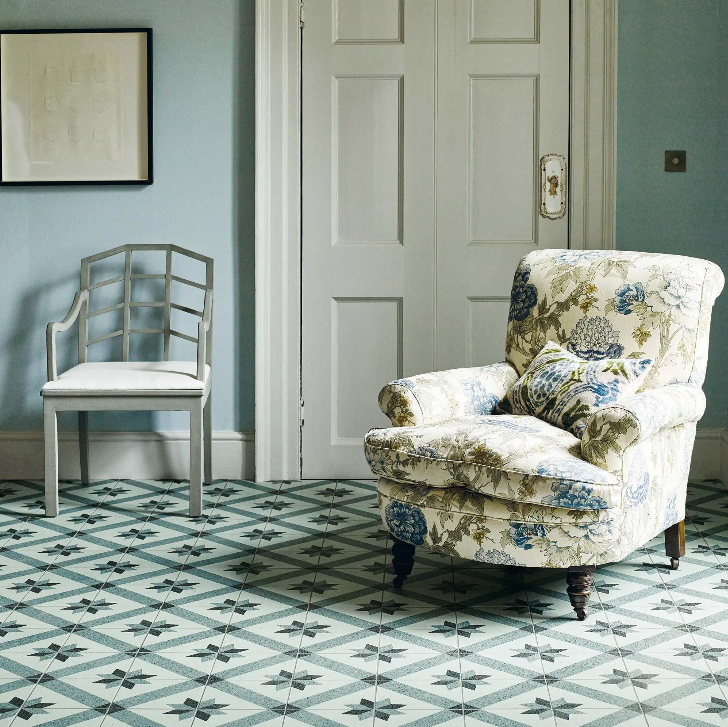 Here are some tile companies to try if you are on a search too:
Your Tiles – really good for a huge range of relatively affordable porcelain tiles with encaustic tile style designs.
Fired Earth – I love pretty much all of their tiles but definitely on the pricey side.
Maitland and Poate – amazing selection of antique tiles (would love this one for the hallway)
Otto Tiles – some lovely unique encaustic designs.
Bert & May – great selection of bold encaustic tiles.
Ca'Pietra – good large black and white chequer option.
Claybrook Studio – beautiful designs in lovely soft colours.
Mandarin Stone – I love their terrazzo tiles.
Anyhoo, I will keep you updated on the search!
Katy x