When I was invited to stay at The Welsh House I could not have been more thrilled as we had such a dreary summer so I saw a long weekend as our chance to get a much needed break and refresh ourselves before slowly creeping into Autumn.
I was immediately drawn to Bryncyn cottage (there are three to choose from) because I was so struck by the modern extension to such a beautiful traditional Welsh cottage, achieved so skilfully by Dorian who owns the three cottages. As I said in last week's post I am always so torn between the charm of the old and the function and design of the new so Bryncyn seemed to promise the best of both worlds.
And it did not disappoint. We really did have a magical few days in the most gorgeous house, surrounded by still, quiet countryside, sun – yes sun! – to die for, and time.
We arrived in the stunning evening light to this perfect looking cottage and the light was streaming into the sitting room from every angle – oh to have sash windows and shutters! After scoffing some Welsh cakes left for us we went for a wander to stretch our legs after a long drive and to take in the beautiful evening and peaceful countryside. Otto discovered some friendly looking cows, although he didn't like it quite as much when he discovered the next morning that they walked up our drive past the house.
We took our time over making dinner and settled with a glass of wine in front of the wood burning stove, although actually we really didn't need it because it was so mild. Not having a TV or wifi was replaced with chatting, listening to music and catching up, all of which has been too rare lately.
The next morning Otto and I climbed to the back of the garden with tea in hand to be greeted by the most amazing sight of what looked like a blanket of cloud covering the valley below: dragon's breath, so I'm told.
Coming down from a wonderful sleep to the modern extension, with its concrete and glass walls, absolutely filled with light was quite something. I've said in the past that I chose my flat because of the floor to ceiling windows and I really do believe that it makes a massive difference to my mood living in a light, bright space. The modern extension at Bryncyn is the perfect antidote to the traditional proportions and typically dark nature of cottages. I loved the contrast of the old against the new and being able to choose which space to be in according to my mood. The hard edges of the kitchen diner were softened by the pond and wild garden that lies beyond the huge sliding glass door. At night when we cooked and ate here with lights on and candles lit it transformed into a warm, cosy space and as we looked in from outside it had become an amazing lightbox in the middle of pitch black countryside (I wish we'd been able to capture this!). Did I mention that there is a hot tub on the terrace? We were so lucky to have a completely clear night on Saturday so we spent part of it in the hot tub star-gazing and I finally managed to see the Milky Way.
I love the functionality and space of modern design and it provided just the right balance of ease and convenience for a long weekend away from home. We wanted to spend time cooking good meals so the modern kitchen was perfect.
I loved the mix of furniture chosen by Dorian that worked so harmoniously together, along with traditional Welsh woollen cushions and blankets.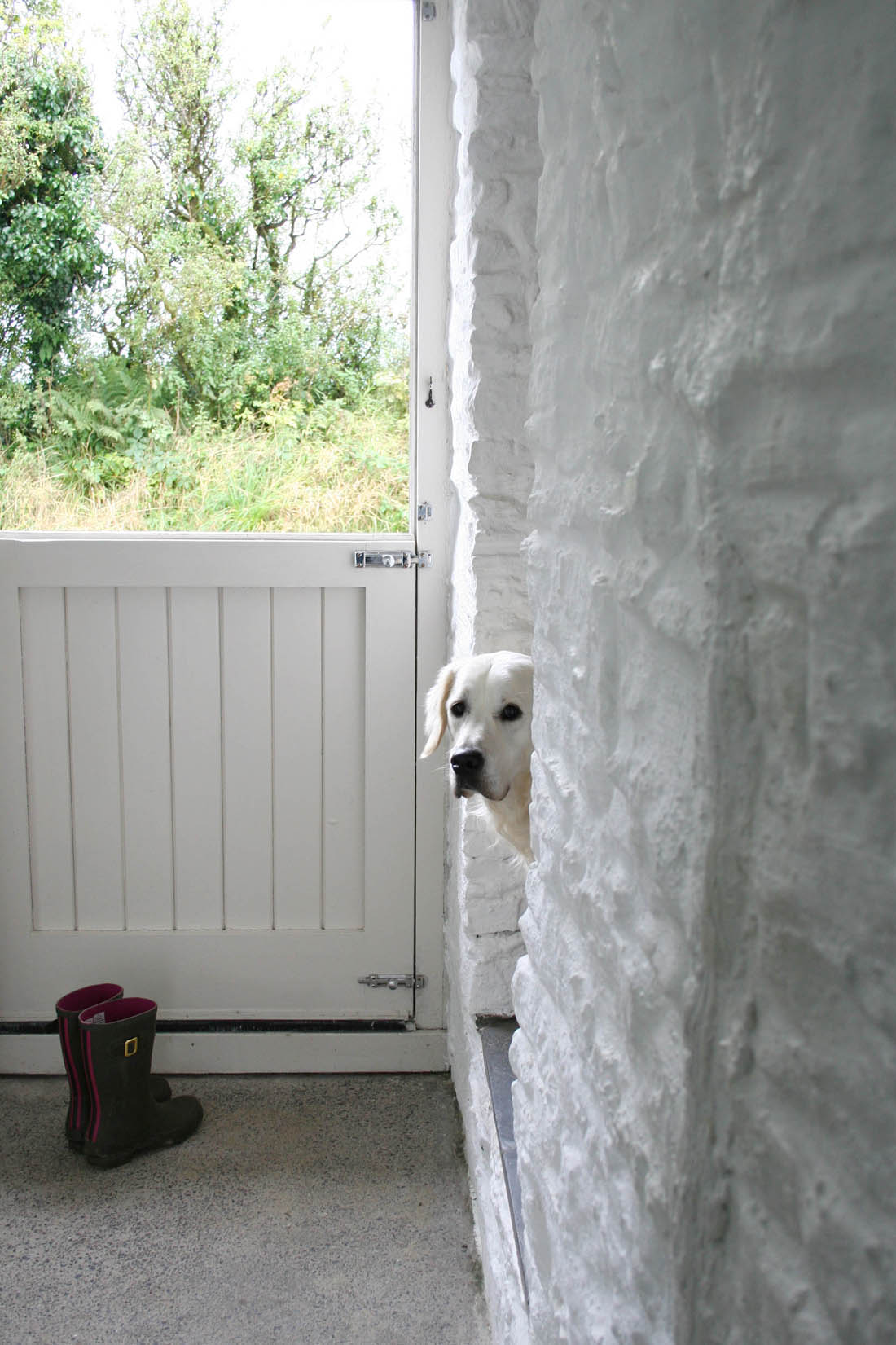 The bathroom is also in the modern extension, which worked perfectly for me because I have a thing about needing a good shower.
Dorian has opened up the whole top floor of the cottage to make one big bedroom, which was wonderfully simple and spacious, with loads of light and a very comfy bed. Loved the hanging pendants too.
The sitting room is so cosy and reading on the big chaise sofa in front of the wood burning stove could not have been more relaxing.
I will write another post with some pics of what we got up to during our stay as we had such a great day at the beach. I hope you have enjoyed a little tour of the house and do pop over to Dorian's site to take a look at the other two cottages. As well as that, take a look at Sara's beautiful film she made of her stay here – it really is something.
Thank you, Dorian, for creating and sharing this little pocket of heaven.
Katy x