I first came across Siobhan's home mid-renovation. I think I had searched for a paint colour and up came one of her rooms and I fell in love with the bare bones of her home that she featured on her Instagram @home__stead. As time went on and she and her husband finished off room after room I loved every single detail that they added and it became a huge source of inspiration for me (she was the first person I asked for advice when choosing a white for my bedroom!). Siobhan's use of whites and neutrals is so skilful and enables her to create the perfect warm and welcoming backdrop for her beautiful antique finds and characterful furniture and unexpected additions like the Willow Boughs wallpaper and Bancha Green provide the perfect contrast. Siobhan has very kindly sent over some of her gorgeous Instagram shots and is going to tell us a little more about her home and how she has made it so beautiful. I hope you love it as much as I do.
How long have you lived in your home and what made you decide to buy it?
We bought & moved into this house in July 2017. Location was the number one attraction when buying this property. After relocating to Edinburgh from Ireland almost 9 years ago for work we have always lived in the west side of the city. We have lots of amenities on our doorstep, good schools, shops, cafes, etc. & we are only a 20 minute walk from the city centre. Also close to airport (Rory travelled a lot for work at the time so that was important). The size was also perfect for us. We were a family of 3 when we moved in & had started to outgrow our 2 bed apartment. We needed more space. House prices in the area are expensive so if we wanted to stay nearby we had to take on a property that needed a lot of work which we could undertake ourselves. This house was perfect for us (& nobody else wanted it!! It was THAT bad!!).

What was your vision for your home and how much work did you do yourselves?
Prior to the moving day we started working alongside a kitchen designer at Howdens to come up with a layout to best suit the space. We knew the first thing we wanted to do was to take down the wall between the two rooms to create one big open plan family kitchen/diner. Once this was done we could visualise how the space was going to come together! It is a north facing room & because of its function it was important to us that it didn't feel cold or dark. Taking down the wall helped us to achieve this as best we could. Bringing things back to their former glory is important to us. We have reinstating the vestibule, mantlepiece in the bedrooms, Edinburgh presses, etc. We also painstakingly stripped & sanded the staircase back to bare wood. We undertook all of the work ourselves except for plumbing, electrical work & plastering.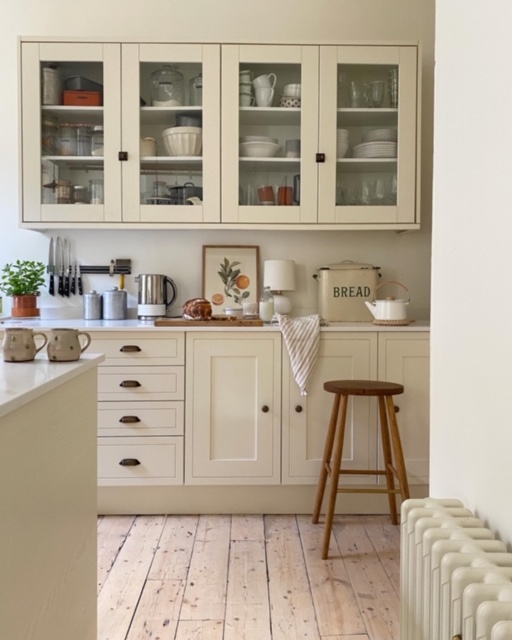 What colours have you used in your home and why did you choose them?
I love colour but I prefer a neutral back drop to spaces we use on a daily basis. Our colour pallet consists of mostly green based neutrals, these give a feeling of calm & cleanliness (Wimborne White, Slipper Satin, School House White, Shadow White, Shaded White & Hardwick White – Farrow & Ball). It isn't a big house so I wanted to keep the pallet simple & introduce colour in accessories ie painted furniture & soft furnishing. I have accented with blues, greens, pinks, mustard & rust. I have used some statement colours in small spaces like the Studio Green partition in the vestibule. Inchyra Blue under the stairs & Bancha in the utility room.
How do you add character and personality to your home whilst using lots of neutrals and whites?
We retained lots of character in the ornate cornice, the picture rail & the architrave. We also have sash & case windows, an Edinburgh press in most rooms, a wooden staircase & the beautiful glass cupula on the landing. We also uncovered the original fireplace & tiled hearth & the original Edwardian floor tiles in the vestibule. I have always loved the William Morris wallpaper 'Willow Boughts' & decided to use it in the vestibule where it can be appreciate by everyone who comes to our door. I love anything old! Be it an enamel bowl or a great big chesterfield. I quite like to mix old & new. I like using free standing furniture & I am always on the look out for the perfect piece. I enjoy moving furniture around the house & painting it in a muted tone to give it a new lease of life.

What items do you prioritise spending money on when decorating a home and where do you think you can scrimp?
We spent a lot of money in the beginning having the whole house rewired & then a few walls skimmed. We also spent a lot on salvaged cast iron radiators (purely for aesthetically reasons but we are so glad we splurged on them in the beginning). We had a wood burning stove fitted. This was life changing during the cold winter months. We actually scrimped on flooring. We exposed the original pine floorboards, sanded them back & treated them with a product called Treatex to take the yellow tones out & used a hard wax oil on top for durability. & sanded them back & waxed them using a product called Treatex. We painted a runner in the stairs using Farrow & Ball a Modern Eggshell in a Hardwick White.

What or who influences your style?
I would describe my style as an eclectic mix of old & new. I am greatly influenced by Scandinavian design. I love classic Scandinavian furniture with elements of old furniture.

What's your next project in your home?
The next room we are going to tackle is the wet room that we plan on building into a space gained from the hallway/kitchen. I am very excited about this as we will be designing from scratch again. It will be a small space with no natural light, however I will opt for keeping it an off white to create a clean & calm space.
Thank you so much, Siobhan! Do pop over to Siobhan's Instagram @home__stead for more info on the paint colours in each room (check out her highlights).
Katy x