AD – This post contains PR products from Bisley and Summit At Home
If you have been unexpectedly working from home for the last year you will know what an absolute luxury it is that we have enough space to create a dedicated home office. Like many of us we spent the first six to nine months of lockdown making do, which for us meant a small table and dining chair in the spare room. However, when it became clear that further lockdowns were on their way we made the decision to turn our spare room into a proper home office.
I have to say it has become the most lovely room to spend time in but it is one of those spaces that doesn't look particularly good on camera (and trying to get any decent photos was a nightmare as it's such a small room!). My aim was to make it very much an extension of the rest of the house rather than give it too much of an 'office' feel. I wanted it to be warm, cosy and welcoming and it really is all of those things. Although it doesn't look glossy and curated in photos and follows no trends, it feels and looks so lovely in real life and that's what matters. Don't be side tracked by what you see on Instagram and try to create someone else's style – go with what you know will make you happy and feel good in your home.
Paint colours
I actually wanted to paint the walls a plaster colour – I love Stony Plaster by Atelier Ellis – but Jules was having none of it and insisted on an off white so I chose Slipper Satin by farrow & Ball for the walls and stuck with the Shaded White woodwork. If you follow me on Instagram you will know the whole saga about the cabinets and the fact I painted them Treron Green, which looked really good, but Jules wasn't sure so we switched back to Shaded White. As I said at the time I was looking for any excuse to shut myself away in a room by myself for some peace and quiet so re-painting was not an issue for me!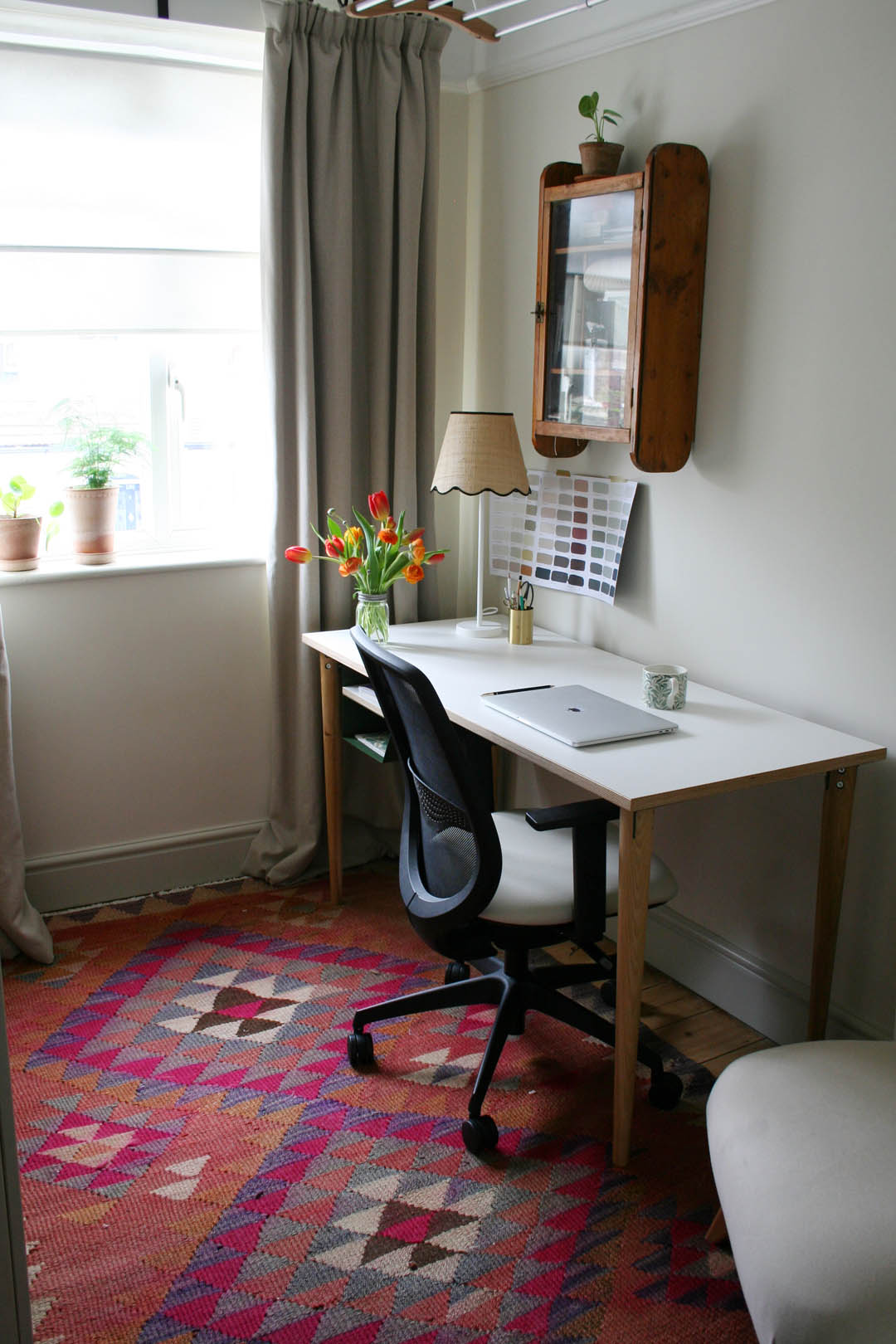 Office furniture
We moved the single bed that was in this room for guests into Mimi's room as we were giving her junior bed to my niece. This meant we had space for a proper sized desk. Bisley have launched a new range of home office furniture, which is fresh and simple with great colours, and we chose their new Poise Desk. The white top makes the desk very practical and bounces light around the room but the wooden base adds warmth and makes it feel less 'new'. The olive coloured steel sleeve underneath the desk is brilliant to help us keep a clutter free desk top and adds a nice dose of green (would have looked nice with my green cabinets, right?!). If you don't have as much space as we do for a desk do take a look at Bisley's other home office desk options that have been designed with home environments in mind with space saving options as well as clever storage solutions. I have a special discount code KATY20 if you want to buy something from the new range with a 20% saving!
The other big difference to this room that has saved our necks and backs from a lifetime of misery is a proper Ergonomic home office chair. We spent nine months on a dining chair and that really wasn't ok! Often Jules would get so uncomfortable that he'd move to the sofa or bed if no one was around but that was also terrible for his neck. However, again, it was one of those things where we just had no idea how long the situation was going to go on for so we didn't immediately get a home office chair (we should have done!!). Summit At Home does a range of ergonomic chairs and you can choose which suits your situation best (as well as your fave colour). We chose the Ovair Office Chair in Futurist Natural fabric. Both Jules and I can use it comfortably as it is fully adjustable and it has made the biggest difference – we're delighted with it.
IVAR cabinet hack
As you may know I bought two IVAR cabinets for this room a while back when it was still mainly used for guests. I did a great IKEA IVAR cabinet hack on one of them that has been my most popular blog post ever – it has been pinned and shared hundreds of thousands of times. However, I had not got round to doing the other cabinet so I needed to do that plus I wanted two more cabinets to go on top of the existing two to make a whole wall of storage. IKEA has been having some major stock issues during the pandemic combined with Brexit issues so there were none available but then someone who lives five mins away saw my instagram stories about this and offered to sell me two that she needed to get rid of – amazing! Thank you Ester! I hacked all of the cabinets and stacked them on top of each other and they not only provide much needed storage but I love the way they look and the texture they give to the room.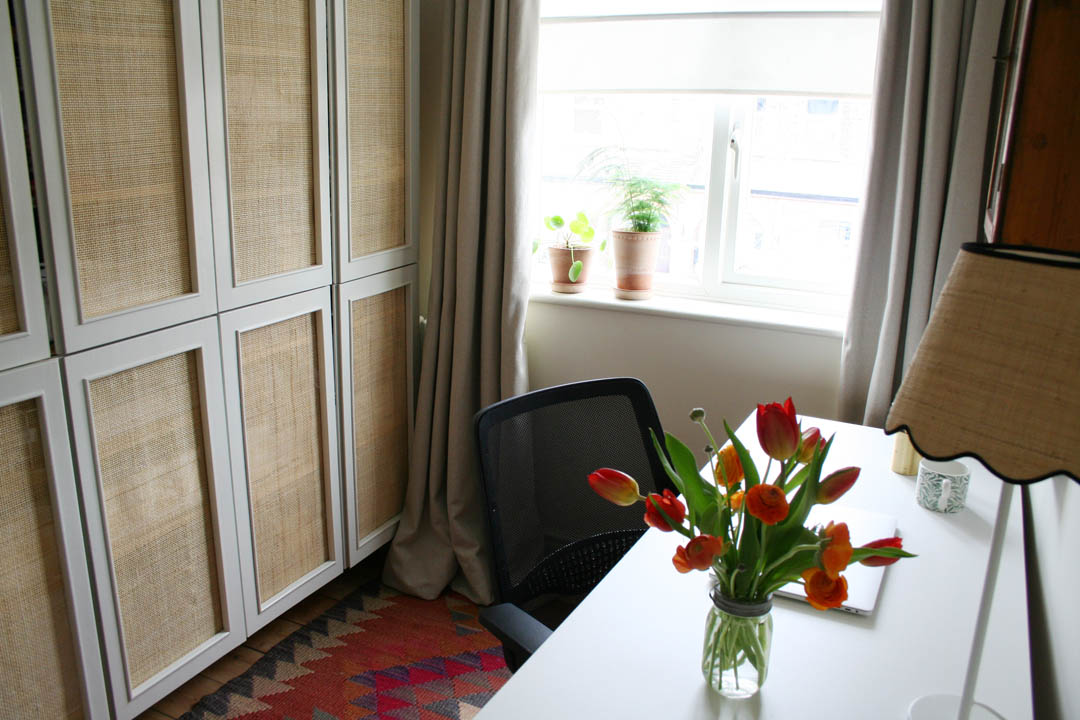 Soft furnishings
I wanted the room to feel soft and warm so the existing linen curtains from Couture Living are perfect, especially in winter when we would draw them as it got dark and work the last couple of hours of the day behind big thick curtains with the lamp on – so good. The way they slightly pool on the rug is everything. For the sunnier months we have a blind panel to give some privacy and stop the glare of the sun.
The rug is my new pride and joy. I was hoping the lovely Anna, who I met a few years back on a home tour, was going to be able to source me a vintage kilim as I was finding it tricky in lockdown not being able to go to market or shops. Anna is based in Amsterdam and sources beautiful vintage handmade pieces for her shop We Are Here Now and I was on the lookout for a vintage kilim with pink or greens to fit the room perfectly size wise. As this is such a small room a rug as big as the floor space was essential to make it look as big as possible. Sadly, no kilims came up in the time I was looking and I happened across one from Nain Trading that I loved and couldn't let it pass as it's a vintage one off so I bought that instead. It adds so much warmth to the room and the colours reflect up onto the walls and furniture giving everything a warm glow. I know it won't be everyone's cup of tea but this rug makes me very happy and it also makes the room feel very relaxed (and it's dog friendly showing up no marks so Otto can happily lie at my feet as I work, which is an added bonus).
I moved the tub chair from our bedroom into the corner of the office when we built the wardrobes and that feels like such a luxury being able to sit in here with a cup of tea. Previously we had always dried our clothes in this room on a drying rack but with the addition of a wall mounted rack we instantly gained back half of the room. Being able to use some of that space for a soft chair is just lovely.
Additions to be made to the room
I still need a few bits to make the room feel finished such as a couple of pictures on the walls and a new lamp base for the Matilda Goad lampshade I treated myself to when schools re-opened and I started work again. But to be honest the point of this room is that it isn't a perfectly curated room as that is what makes it feel relaxed and a nice place to work.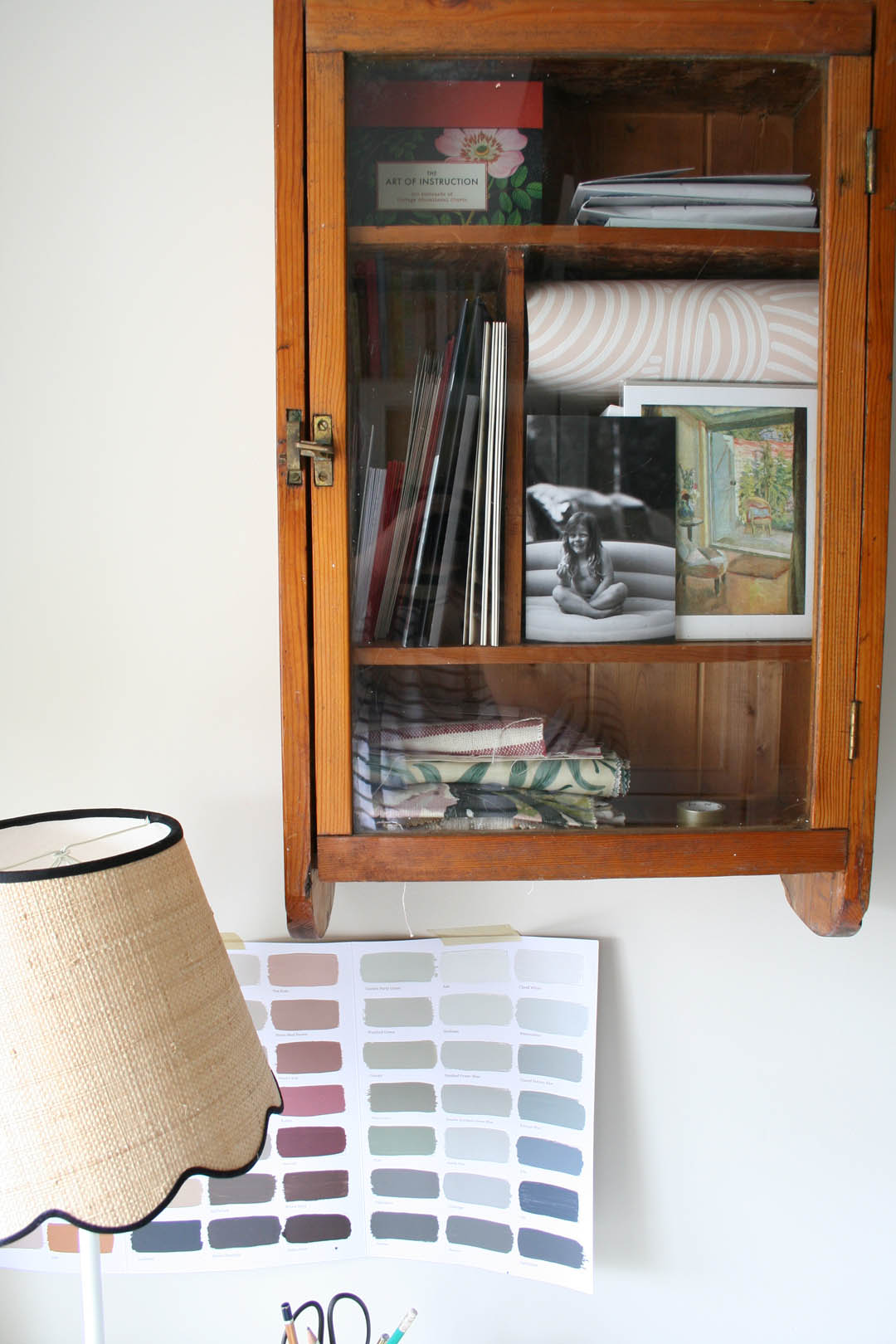 I hope anyone working from home has been able to adapt as well as possible. As I said, we are so grateful for this space and so happy that it has finally found a good purpose. Don't forget to use the discount code KATY20 if you want to make a saving on Bisley's new range of home office furniture.
Katy x