As I told you last week I'm working with Homesense this month so I went along to the new store in Greenwich to choose a few things to show you. I went with a shopping list in mind but almost as soon as I got there I was stopped in my tracks by a beautiful chair, that I had no idea that I needed. I fell in love on the spot so I spent my own money buying the chair and the rest of the budget given to me by Homesense on a collection of other great homewares for my living room and more for a wardrobe makeover that I will show you next week.
So, here is my new chair that I pounced on as soon as I saw it (knowing that it was a one off find as Homesense stock varies from day to day and store to store)…
My living room has been taken over by baby toys of late and the worst offender was the bright tacky plastic of the jumperoo. Happily, I gave that away not long ago as Mimi is having none of it now she crawls, climbs and cruises. So, I was left with a gaping jumperoo-sized hole (have you seen those things – they are flipping HUGE!), which was the perfect spot for the new chair. We have a foam play mat that surrounds the chair normally (when I'm not taking photos 😉 ) and Mimi loves the fact that I sit in the chair and she can play close by and occasionally use the chair as a new climbing frame.
I love the mid century vibe of this chair and the colour of the wood is perfect for this room. It also feels really solid and well made. I chose a beautiful wool blanket from Homesense to add a bit of softness and colour to the chair and to help tie in with the colour scheme of this room. Also, as usual, I am getting excited about my favourite season drawing in and you can never have enough blankets once the days get colder.
I also bought a new toy basket that is the perfect shape for Mimi to reach into and the best way to keep toys from being strewn everywhere. There was only one of these baskets in store so I was very pleased to get my hands on it.
As I mentioned in my last post I was overly excited to find this crocheted bunny toy for Mimi whilst I was at Homesense for only £4.99 compared to the RRP of £29 – I've got to grab aesthetically pleasing toys that Mimi will actually like when I see them. There is far too much brightly coloured plastic in my house these days.  She really does love the bunny as it rolls around and she chases after it (as does Otto!). Look at those chubby little hands!
I love the textured grey fabric of the chair as it complements the mid century style and it is very baby and dog friendly (Otto loves nothing more than resting a slobbery chin on chairs).
The basket was £12, which I think is a really good price for such a sturdy basket. It's going to get a lot of use and I really think it will stand up to it.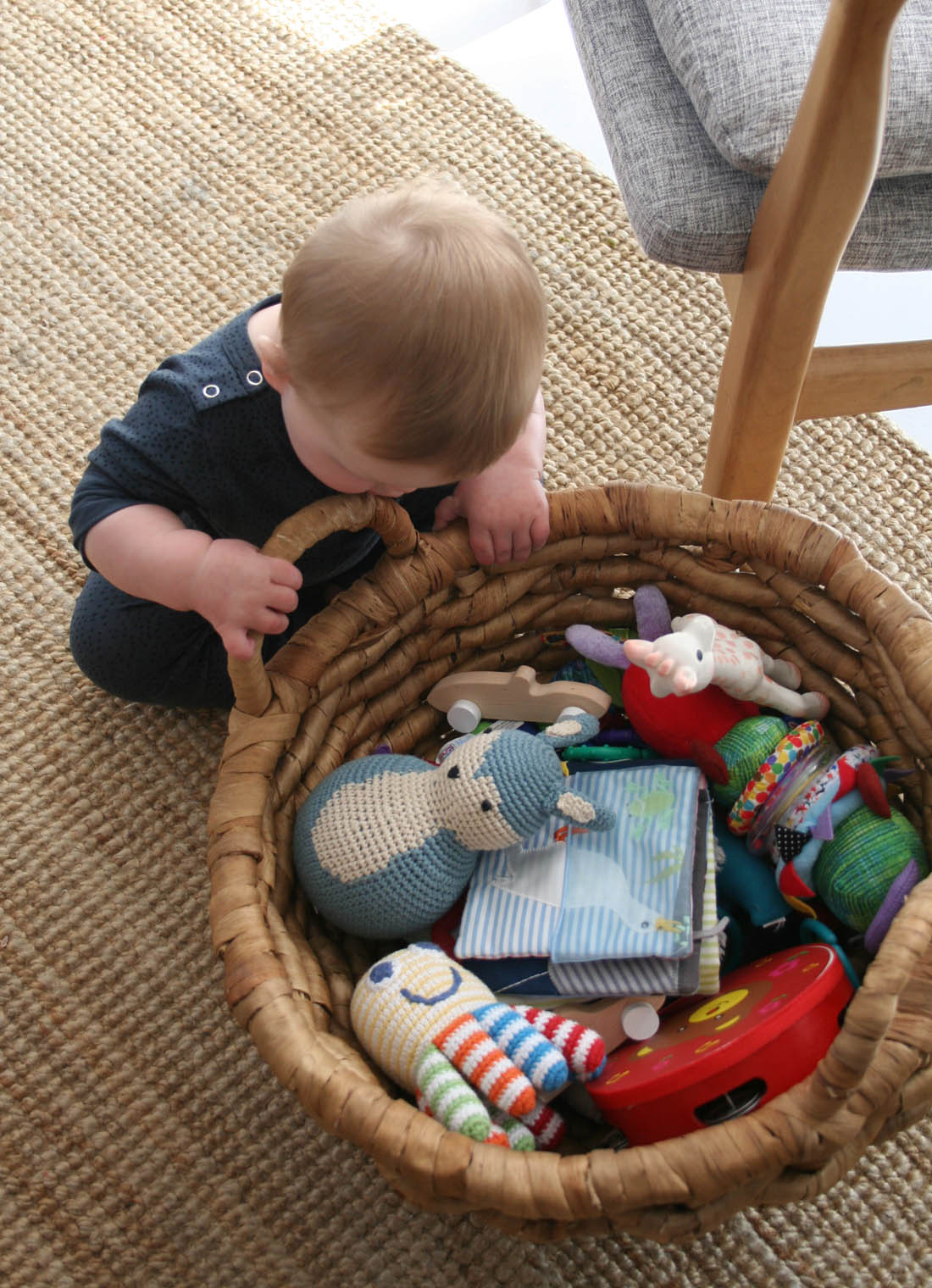 The chair is so comfortable and it's the perfect place for me to sit whilst Mimi plays and she can't get enough of climbing up it!
I'm so pleased I came across the chair and made the decision to buy it there and then. It's the perfect addition to our living room.
What do you think? Would you expect to find something like this at Homesense? I have to admit that I didn't but I'm very happy I did. Back next week to show you my wardrobe makeover.
Katy x
*This post was written in collaboration with Homesense.